Alysa Nails Salon Cluj
Technical nails Cluj
Alysa Nails salon is opened since 2012 and offers services of technical nails, nails with gel, nails construction, nail art, nail design, manicure and pedicure to clients who wish to have nails with a look close to the one of their natural nails, thin, made by a professional and in relative short time, at the best price/quality ratio. Read more about the products we use in our salon and also about the equipments in our salon in About us page.

In our salon you can choose from our catalogs the nail models you like or, upon request, we can create any model on your nails. Read more in Services of technical nails in Cluj page.

Alysa Nails Salon Cluj - technical nails Cluj Marasti on Ciocarliei street, no. 32-34. Contact us for appointments or check our technical nails prices in Cluj.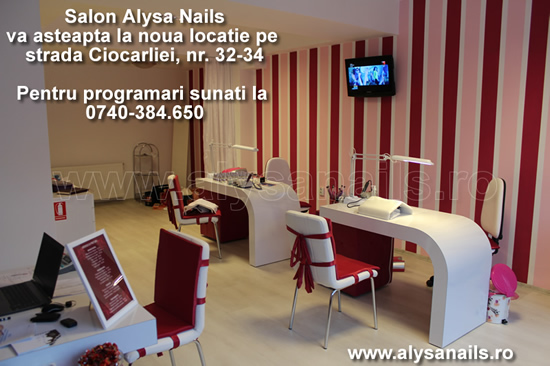 Keywords: alysa nails, technical nails cluj, technical nails cluj napoca, technical nails cluj-napoca, false nails cluj, false nails cluj napoca, false nails cluj-napoca, nail art cluj, nail painting in cluj, nails salon cluj marasti, nail design cluj, manicure cluj, nails salon cluj, manicure salon cluj, emi nails cluj